Interesting Places to Visit
&nbsp
Jakarta is full of destinations worth visiting. Many of the most popular ones are grouped together on a mini-bus tours run by local tour operators and bookable through the guest relations officers at nearly all Jakarta hotels. However, visitors can easily take self-guided tours by taxi and, in the process, probably pass through some interesting neighborhoods along the way.
|&nbspBack Homepage&nbsp|&nbspAncol Recreation Area&nbsp|&nbspTaman Mini&nbsp|&nbspMonas&nbsp|&nbspJl. Surabaya&nbsp|&nbspRagunan Zoo&nbsp|&nbspTIM&nbsp| &nbspSunda Kelapa&nbsp|&nbspPancasila Sakti&nbsp|&nbspFatahillah Square&nbsp|&nbspNational Museum&nbsp|&nbspTextile Museum&nbsp|&nbspArmed Forces Museum&nbsp|&nbspPulau Seribu&nbsp|

&nbsp
---
Beautiful Indonesia In Miniature
"Taman Mini"
Taman Mini is a beautifully planned and well maintained theme park in which the varied cultural and artistic traditions of indonesia's people are depicted in all their colour and diversity. Each of the country's 27 provinces is represented by its own pavillion. and area. There, the handicrafts and food of that province can be purchased. There are regular performances of traditional dance -- and splendid wedding ceremonies are also held. Within the 100-hectare Taman Mini complex, you'll also find botanical gardens, a bird's park, an Aquarium, a Komodo Dragon museum, A great collection of marriage regalia, a stamp exhibit, an elaborate telecommunications display, an aerial tramway and a giant-screen IMAX movie theatre, along with rides &amp amusements. New attractions are being added all the time. This is a family-oriented spot, so it's specially crowded on weekends. Try to spend a whole day just wandering around, if you can. Dont Forget to bring your Camera with you! ---You can get to "Taman Mini" along the tollway by taking a taxi from any mid-city hotel. Many local tour companies also include it as a stop on their itineraries. For more information and full schedule of activities, call 840-9270.

&nbsp

&nbsp

The Ancol Recreation Area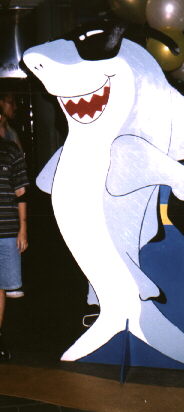 Ancol, located alone the oceanfront in North Jakarta and just 20 minutes from Monas by taxi, is one of the capital's true delights. There's a Marina (-- departure point for travel to a series of offshore island resorts --), an eighteen-hole golf course open to the public, an elaborate water park, an oceanarium (-- Sea World --), the Dunia Fantasia amusement park and the outdoor art market called Pasar Seni. Pasar Seni is an excellent place to watch painters, woodcarvers, leather crafters and other artisans at work. It's also a great spot to enkoy fried squid salad or chicken soup or es kelapa muda at a shaded outdoor restaurant or enjoy free performances of music, dance or puppetry on the centrally located outdoor stage. Unlike the ever popular Jl. Surabaya market, Pasar Seni has no high-pressure touts or "special-price-for-you-today" atmosphere. Therefore, spending an hour or two is a superb way to escape from the central city's congestion and noise.

&nbsp

&nbsp

The National Monument
"Monas"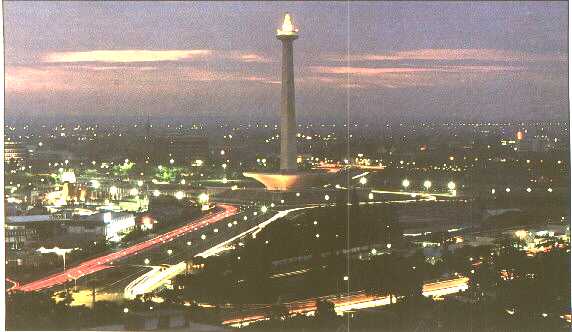 Built during the administration of Soekarno, Indonesia's first president, this towering obelisk topped with a golden flame can be seen from nearly any part of Jakarta and serves as a useful reference point for those apt to get lost. An elevator takes visitors to the very top of the 132-metre monument, where there's an observation desk. At the base of the monument is a small museum containing historical exhibits and dioramas. Monas is open seven days a week from 8:00 am to 5:00 pm.

&nbsp

&nbsp

The Jalan Surabaya Market
Even Bill Clinton managed to sqeeze in a little shopping recently at this famous street market in Jakarta's centrally located Menteng neighborhood. Along this half-kilometer stretch just off gracious Jl. Diponogoro is a collection of stalls selling "antiques" (-- many of them newly fabricated --). The selection includes puppets, weavings, musical instruments, nautical bric-a-brac, wooden carvings and much much more. Bargain strenuously! And if you need extra luggage to carry home your purchases, there are at least a dozen shops selling suit cases of every concievable size and shape.

&nbsp

&nbsp

The Ragunan Zoo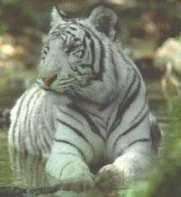 This collection of animals is located in South Jakarta, about a half-hour's taxi ride from the city sentre. The atmosphere is extremely pleasant, with long shaded walkways winding among exhibits. On display are many of Indonesia's rare and endangered wildlife species: the komodo dragon, the sumateran tiger, the orang utan, the cendrawasih bird &amp so on. There are plenty of food stalls and small informal restaurants at the zoo too, making it pleasant place to grab a bite. To get there, ask your taxi driver to take you to "Kebun Binatang Ragunan". (-- chances are that he won't know the word "zoo"! --)

see also http://www.freeyellow.com/members5/sahabat-satwa/zool.htm

&nbsp

&nbsp

Taman Ismail Marzuki
"TIM"

TIM is a collection of buildings in the Cikini neighborhood housing exhibit halls and performance spaces dedicated to the arts. Within the complex, you'll also find a planetarium, several cinemas and numberous small restaurants and foodstalls.

&nbsp

&nbsp

Sunda Kelapa Harbour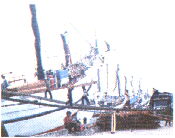 It was from this spot in North Jakarta that the city originated nearly five centuries ago. Today, there's a maritime museum to visit, a fish market to tour (best early in the morning) and some interesting lanes to walk along. The most memorable sight, thought, is the very long row of hand-built wooden sailing ships (called perahu pinisi) which still carry cargo across the open sea to other indonesian islands. They're lined up in all their splendor -- almost as if they were posing for your camera!

&nbsp

&nbsp

The Pancasila Sakti Monument

This memorial near the "Taman Mini Theme Park" is built at the site where the bodies of seven murdered military officers were dumped into a well during an abortive coup in 1965.

&nbsp

&nbsp

Fatahillah Square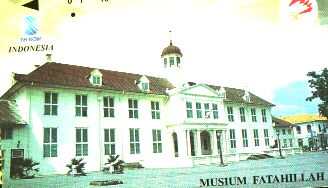 This Historic square was an important center of municipal life during colonial times under the dutch. Today, its a great place to learn more about Jakarta's political and cultural history because of the museums around or near it. (it is also convenient to the Pasar Ikan area). Bordering the square to the south is the Jakarta History Museum, built in 1627 as a warehouse and today housing an interesting collection of archeological and historical items: statuary, paintings and drawings, furniture, coins &amp so on...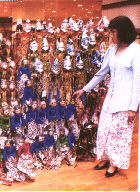 Along the East Side of Fatahillah square is the city's Museum of Fine Arts. It contains a fairly comprehensive collection of works by such well-know Indonesian artists as: Raden Saleh, Affandi, Basuki, Abdullah, Dullah, Srihadi and Jeihan. The array of ceramics (both local &amp Foreign) on display is also quiet varied.
West of the square is the Wayang Museum, housing a diverse collection of traditional puppets from across the archipelago. Housed in a very old dutch mansion.
&nbsp
&nbsp
National Museum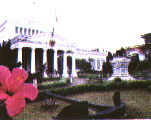 The National Museum, located along Jl. Merdeka Barat, the street bordering Monas square on the west, is a vast repository of things Indonesian: gold jewelry, bronze and stone sculptures, traditional costumes from various regions, stamps, coins, ornate, old colonial furniture, puppets, toys, modes of transportation, geologic samples, old prints and much much more. You could easily get lost here --happily so-- for several days. It's easy to recognize the building since its marked by two copper elephant statures in front.

&nbsp

&nbsp

The Textile Museum

Off the beaten track (on Jl. K.S. Tuban in the neighborhood called Tanah Abang), the textile museum will fascinate anyone interested in traditional weavings and old techniques for hanad-looming and dye-printing fabrics. Most of Indonesia's many cultural groups are represented in the collection.

&nbsp

&nbsp

The Armed Forces Museum

This Museum on Jl. Gatot Subroto contains many dioramas and exhibits relating to Indonesia's struggle for independence. There are displays of weapons -- and you can have your photo taken while posing next to a bullet-riddled sedan.

&nbsp

&nbsp

Pulau Seribu
The Thousand Islands

Hundred of Islands located in the waters off Jakarta are known collectively as The Thousand Islands. Many have become weekend getaway spots for Jakartans in search of clean cool air and a bit of quiet. Some of these islands contain up-market accomodations, fancy restaurants and an abundance of recreational options. Others offer modest facilities. Getting out of the island of your choice (from the ancol marina) could take as little as fifteen minutes or as long as three hours.

&nbsp

&nbsp
---
|&nbspBack To Top&nbsp|&nbspAncol Recreation Area&nbsp|&nbspTaman Mini&nbsp|&nbspMonas&nbsp|&nbspJl. Surabaya&nbsp|&nbspRagunan Zoo&nbsp|&nbspTIM&nbsp| &nbspSunda Kelapa&nbsp|&nbspPancasila Sakti&nbsp|&nbspFatahillah Square&nbsp|&nbspNational Museum&nbsp|&nbspTextile Museum&nbsp|&nbspArmed Forces Museum&nbsp|&nbspPulau Seribu&nbsp|

&nbsp

|&nbspBack to HomePage&nbsp|

&nbsp
&nbsp

Send Comments &amp Suggestions to the webmaster: vdreamer@usa.net

URL: http://members.tripod.com/~jakarta23
Webmaster &amp Site Maintainer: &nbspJona Reyes
Copyright &copy 1998, Jaguar1923
&nbsp